October 15th-16th, 2022 from 11:00-5:00pm
The Watercolor Connection Group, of which I am a member, will be exhibiting paintings for sale at St. Paul's Episcopal Church in downtown Natick.
The painting below, Abandoned Rowboat, will be on display and is for sale for $350.00.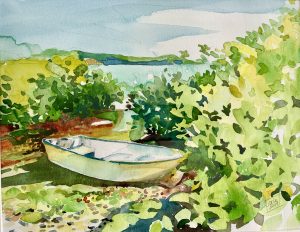 Also being shown is Mulch Yard in Winter, which is for sale at $225.00.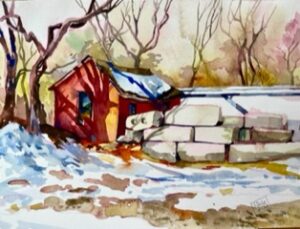 August 9th – November 30th, 2022
I have 5 paintings exhibited at the Suzuki School Show hosted by the Newton Watercolor Society at 1615 Beacon St. Waban, MA.
September 9th – November 2nd, 2022
My painting, "Moose Pond, Bridgton, ME" won an Award of Merit. I am honored to exhibit at the fall exhibition of the New England Watercolor Society in Plymouth, MA.  Moose Pond is for sale, $500 framed and is 16X12. Please contact me if you are interested.